Friends Who Lived in the Hutt Valley 1901-2006
New Zealand
March 21, 2017
---
NOTE: The Hutt Valley is the large area of fairly flat land in the Hutt River valley in the Wellington Region that occupies the southern end of the North Island. Wellington is New Zealand's capital city and region's seat. The Wellington urban area includes the cities of Wellington, Porirua, Lower Hutt and Upper Hutt, and the town of Masterton. Petone is a large suburb of Lower Hutt, located at the southern end of the Hutt Valley, on the northern shore of Wellington Harbour (Wikipedia).
---
In Memory of our Dear Friends Who Lived in the Hutt Valley 1901-2006

These all died in faith, not having received the promises,
but having seen them afar off,
and were persuaded of them, and embraced them
Heb 11.v13

Mr Tom & Mrs Emily Hastings, 1901
They immigrated from Ireland, via Sydney, to N.Z. in 1901, to have an open home for when the workers arrived. Tom, a builder by trade, built a home in High St., Petone [Lower Hutt, NZ]. There they waited three years when in 1904 John Hardy, who knew the Hastings in Ireland, arrived there after being three months in Melbourne. He had a few meetings in Alicetown, Lower Hutt, before he returned to Australia.
The Hastings lived in Petone until 1910 when they moved north to Taihape, then in 1914 to the Te Awamutu district and in 1936, purchased a farm in Otorohanga. They had two daughters, Lillian (d. 1970) married Carl Nordstrom, North Auckland and Winnie (d. 2006-age 99 yrs) married Tom Giltrap (d. 1982) of Wellington and remained on the farm, and one son Charlie (d. 1993) of Hamilton, married Kathrine Gunson Sth Auck (d. 1987). Tom and Winnie, a very knowledgeable lady, retired to Te Awamutu in 1976, cared for by their two daughters, Viva and Gladys. Others of the family are, Hilda (Green), Harold (both Otorohanga), and Wilfred (Karapiro).
MORE WORKERS ARRIVE & MISSIONS BEGAN 1905.
In 1905 the following workers arrived in Wellington N.Z.
Adam Hutchison and Joe Williamson who went to the upper South Is.
Annie Smith and Fanny Carroll to Otago,
Maggie McDougall and Francis Hodgins, Hutt Valley, Wellington, Wainuiomata, Manawatu.
John Fraser and Jim Hodgins to Wairarapa .
Jim Hodgins contracted tuberculosis, and died in 1907, in the Greytown Hospital and was buried in the Greytown Public Cemetery. John Fraser went north to wait for another companion and stayed with Jack Lowe and his wife at Buckland near Pukekohe, who had also immigrated from Ireland to have an open home in NZ. There, he held a most successful mission in Pukekohe East and later at Glenmurray, Tuakau.
THE FIRST MISSION, EPUNI, LOWER HUTT, 1905.
While staying with the Hastings, Maggie and Francis had a mission at Epuni. Nellie Fake, her mother Mrs. Louisa Fake, Mrs Daisy Berryman, Mrs Matilda Lawson, and her daughter, Amy, professed there.
December 1905, John Hardy, this time accompanied by Sandy Alexander, visited the Hutt Valley for the second time, from Sydney, to help Maggie McDougall and Francis Hodgins establish those who had just professed.
The Fakes: Nellie (aged 15 yrs.) was the first to profess in N.Z., 1905, followed soon by her mother, Louisa and in later missions, her sisters May and Melba. Nellie Fake married Mr Harry Reeve in Petrone and moved to Mangere in 1926. Later to Otahuhu. Their family were Ernmeline (Christian), Invercargill, Harold, (d. 2002) Auck, Sydney, Auck, Olive (India) and David, Auck. Sydney was in the work from 1951 to 1962, when he was involved in a motor accident, and Olive from 1953, both in India.
The Lawsons: Mrs Matilda Lawson and her daughter Amy, (1905) who spent time [in] the work in New Zealand between 1910 & 1920. In latter years Mrs Matilda Lawson lived with her son in Paeroa and then with her daughter in Morrinsville. Amy lived in Auckland.
The Berrymans: Mrs Daisy Berryman, 1905, later Alfred Berryman, professed and their children, Berta (Mrs. Paton) Auck. (d. 1995), Edgar, TePuke (d. 1995), Reta (Mrs Charlie Steel) Auck (d. 1994) Frank, Auck (d. 2001) and Amy, (Mrs Winston McCarthy). The Berrymans later bought a farm between Woodville and the Manawatu Gorge, and one convention was held there in 1910. Daisy and Alfred later lived in Whakatane. Alfred died there (d. 1941) and Daisy moved to Tauranga, (d. 1956). Amy (McCarthy), born in Woodville 1910, now (96) lives in Tauranga in the care of her daughter Dorothy Dawson.
The first convention was held in 1909 in Wellington in an empty shop in Adelaide Rd. and the accommodation was in two barns close by.
---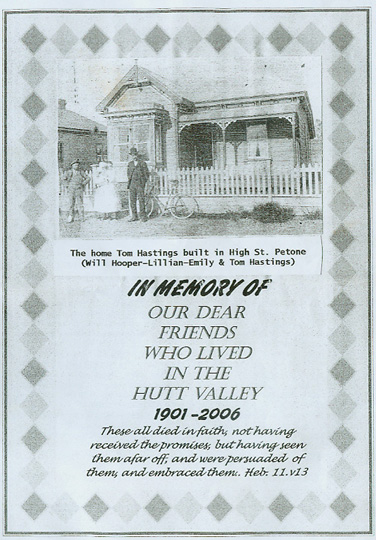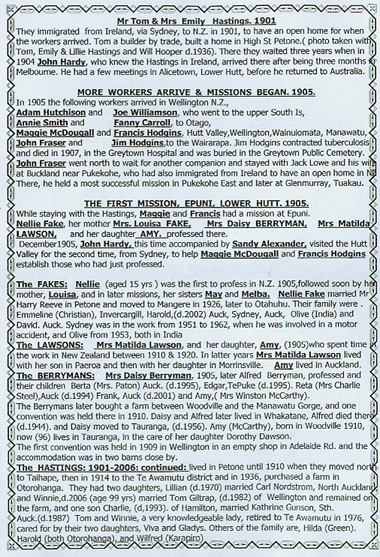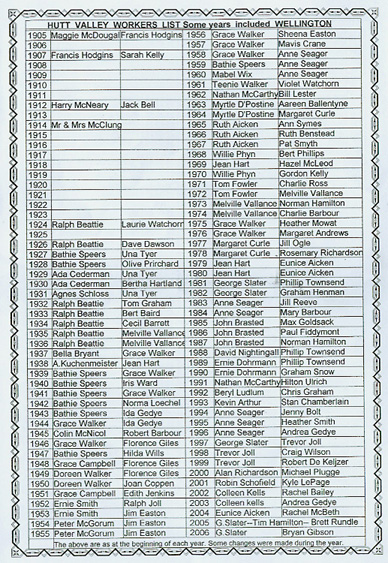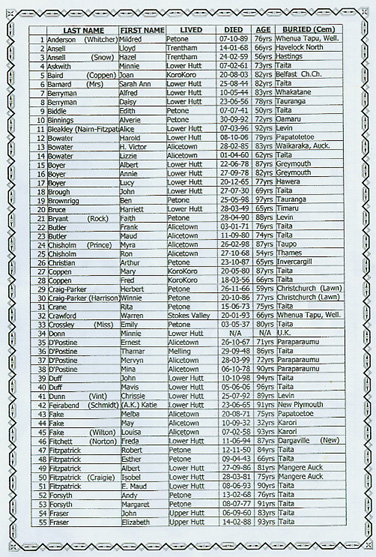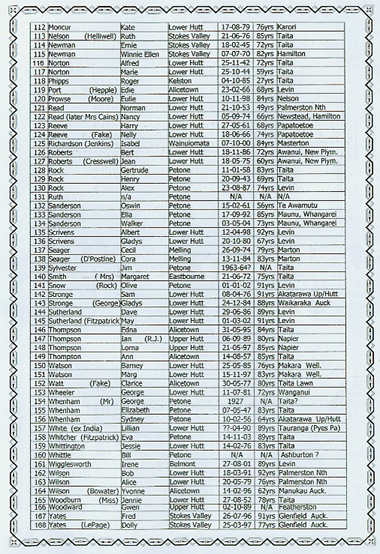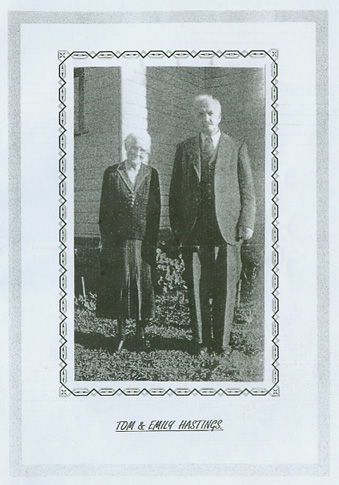 Go back to Index for Pioneering Missions - Australia - New Zealand